Lovers of luxury, decoration and exquisiteness are specialists in giving each room in the house its own style. Who wouldn't like to have a modern bathroom with shiny surfaces in which cleanliness and exclusivity are breathed in each of its corners? This is possible thanks to microcement, the perfect ally to transform the washbasin into one of the most inspiring areas of the house.
Microcement bathrooms are an ideal way to start renovating the aesthetics of the house. The durable and customisable finishes will take over the room to give way to an unprecedented luxurious decoration.
In addition, one of the great qualities of microcement is its safety in areas such as the bathroom. In these areas, micro-stucco with anti-slip finishes are installed, very suitable for covering the floors and walls of bathrooms.
The great benefits of microcement in bathrooms
The bathroom is the room with the highest level of intimacy, it is the part of the house where neither comfort nor functionality can be renounced. The need to combine practicality with the most luxurious aesthetics leads to microcement. If you are thinking of covering your bathroom with microcement, these are some of the features it offers:
1 - Microcement bathrooms with continuous finishes, without joints
It is a continuous decorative cladding without joints, which translates into spectacular finishes. This continuity is ideal for giving the bathroom a limitless elegance and also allows the surface to be cleaned more easily. The most sophisticated aesthetics and functionality go hand in hand with this material.
2 - Renovating without construction work is much cleaner
Microcement in bathrooms is much more than a commitment to aesthetics and luxurious finishes. It is the ideal material for covering any space in this part of the house without the need for construction work, as it is only 3 millimetres thick. In other words, we have at our fingertips to renovate the washbasin, shower tray, bathtub, floor or walls without having to remove the existing surface.
3 - Microcement baths with great flexibility and resistance
A microcement bath is synonymous with perfect resistance to achieve long-lasting finishes. As a decorative coating, it offers high mechanical resistance and strong adhesion on any type of support. With the exception of wood, no surface can resist the benefits of microcement.
4 - An (almost) endless range of textures and colors
The variety of textures, finishes and colors that microcement allows are ideal for covering the bathroom with a unique and personalised style that is totally different from the images you can see in any magazine in the decorative sector.
5 - Create anti-slip surfaces using microcement in bathrooms
Achieve non-slip finishes with the application of sealing varnish. Giving the microcement bathroom floor a rougher finish translates into greater safety to prevent falls. Sealing the coating also makes the surface impermeable to running water.
6 - Transform the bathroom with microcement without the need to use machinery
To achieve an inspiring microcement bathroom, there is no need to use machinery. The application of this coating, unlike other materials, is an artisanal process. Four hours after application, the surface that has been coated can be walked on. It should be borne in mind that microcement requires a hard substrate to avoid problems of chipping.
Where to apply microcement in bathrooms to set the trend
Microcement has an enormous capacity for adaptation. This allows it to be applied in places that go beyond walls and floors. So, below, we will detail some of these places so that you can get inspired when it comes to achieving the perfect bathroom.
1. Bathtub and shower: hygiene, safety and beauty
When you are faced with a bathtub or shower that catches your eye, think that it is most likely to be made of microcement. We say this because the sensations that this covering gives off when it is applied in these parts of the bathroom go beyond the purely aesthetic.
In addition to its high level of beauty, it is easy to maintain and requires minimal cleaning, thanks to which microcement is always ready to make the best impression on those who come into visual contact with it.
On top of all this, we must add its great capacity to create anti-slip surfaces when we apply our varnishes, creating safe, slip-proof spaces.
2. Walls and floors: classy bathrooms and much more
The bathroom is a space that can be perfectly tiled like any other, either vertically or horizontally. Microcement can display all its properties with total guarantee in these spaces full of humidity and sudden changes in temperature. It is highly appreciated on floors due to its non-slip quality and on walls and floors due to its impermeability.
3. Microcement washbasins: easy to clean and premium design
Have you ever thought of the washbasin as a fundamental decorative element for your bathroom? By covering it with microcement, you will obtain a piece of artistic value with outstanding maintenance, functionality and design in which soft textures, the color of your choice and easy to clean predominate.
All the colors of microcement in bathrooms to achieve the finish you desire
Microcement offers a wide range of colors that allow you to obtain different finishes to give the bathroom the personality you want. The variety of colors multiplies the decorative possibilities offered by this coating. However, the finish also depends on how it is applied.
Each application of microcement is unique and allows different effects to be achieved, such as marked textures or leaving it smooth. Microcement in bathrooms is an excellent opportunity to create surfaces of high decorative value. But above all, it is the best option for having a modern bathroom with shiny, clean surfaces that breathe order.
Below, we show a collection of microcement bathrooms that has been achieved thanks to the combination of colors with different finishes. This is just a sample of the personalisation that can be achieved with the application of this coating.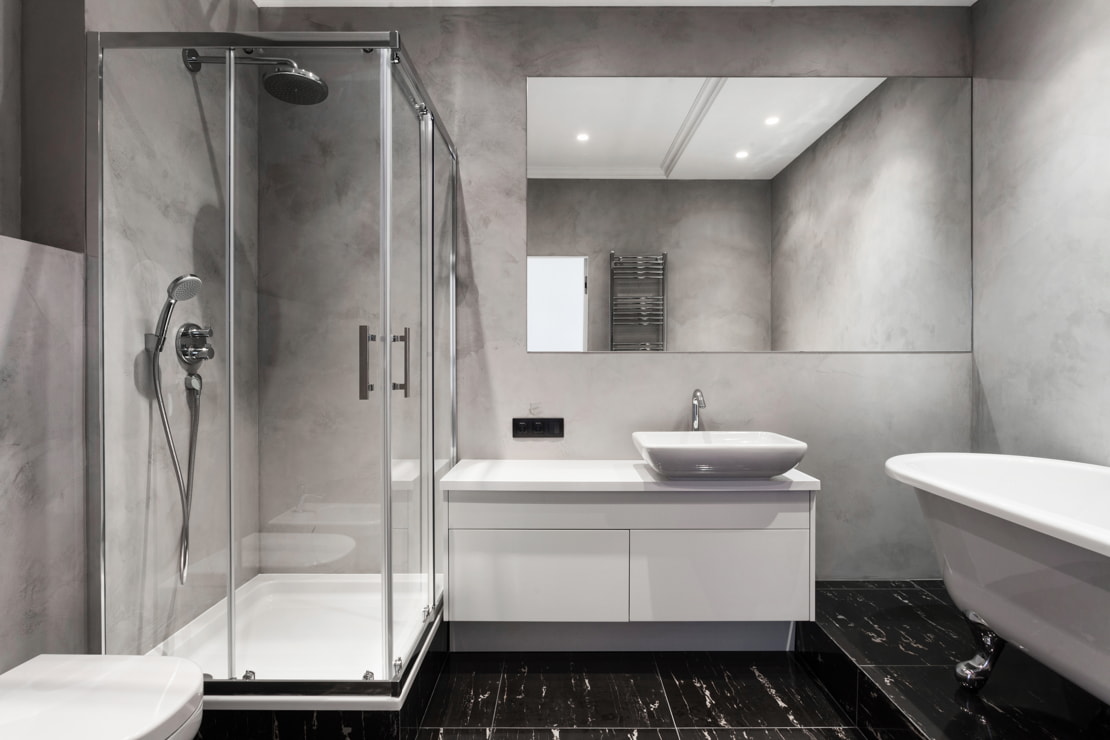 Microcement on the walls of a double-height bathroom with a floating bathtub
1. Modern and cosy bathroom
In this image, the microcement bathroom combines technique and decoration in equal parts. The wall cladding creates a spectacular continuity to enhance the spaciousness of the space. The color Alaska is a great choice, as neutral colors are perfect to achieve spaces where tranquillity and harmony prevail.
Microcement bathroom with white walls, tiled floor and three small windows
2. Bathrooms of powerful luminosity
White walls bring purity, peace and serenity. It is a color that fits perfectly to achieve a microcement bathroom for all styles. Its versatility and the effect of luminosity that it confers to any room have made it an essential decorative covering.
In Luxury Concrete, white belongs to the Nordic collection, which encompasses an ideal chromatic range to catch the light and enhance it by all means. It encompasses colors that are perfect for combining with furniture or wooden beams.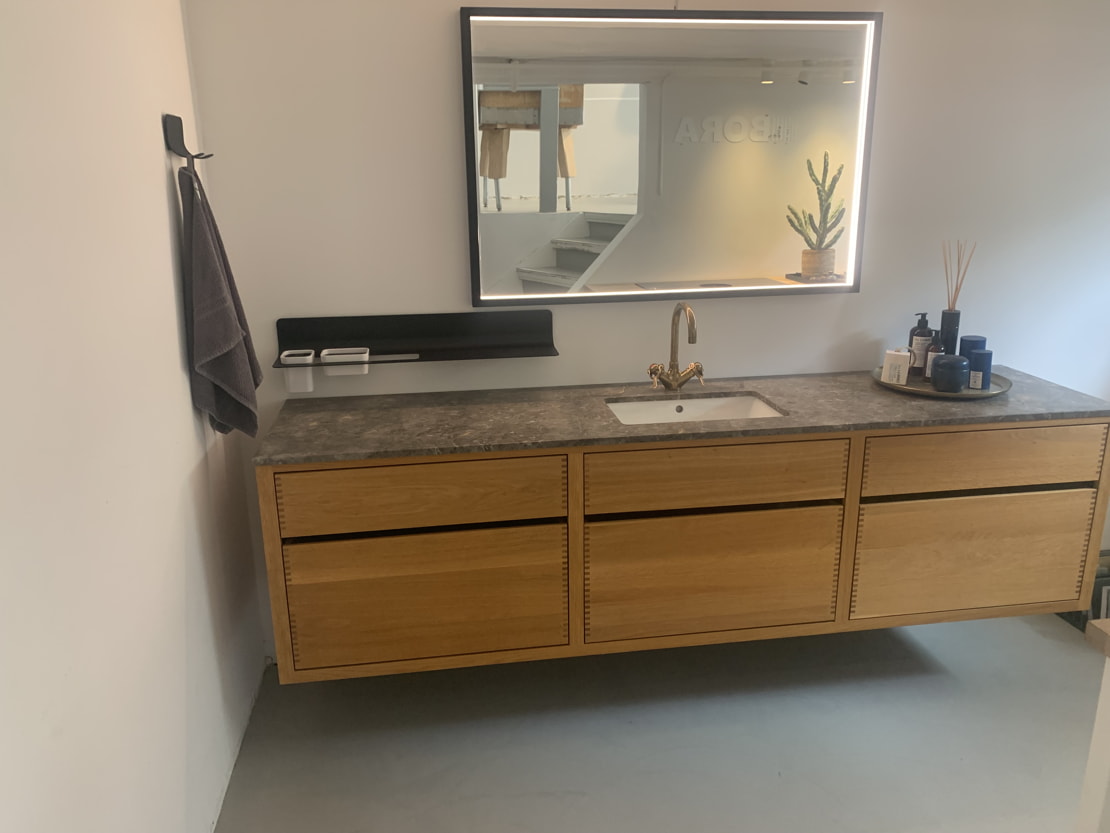 Microcement bathroom featuring floors and walls clad in neutral tones with minimalist decoration
3. Sophisticated atmospheres for elegant bathrooms
In this case, the grey microcement bathroom creates a more elegant environment. This color combines wonderfully with wood or cotton fabrics. The combination with the furniture creates a sophisticated and exquisite atmosphere. The microcement on the floor offers a delicate beauty and a warmer decoration.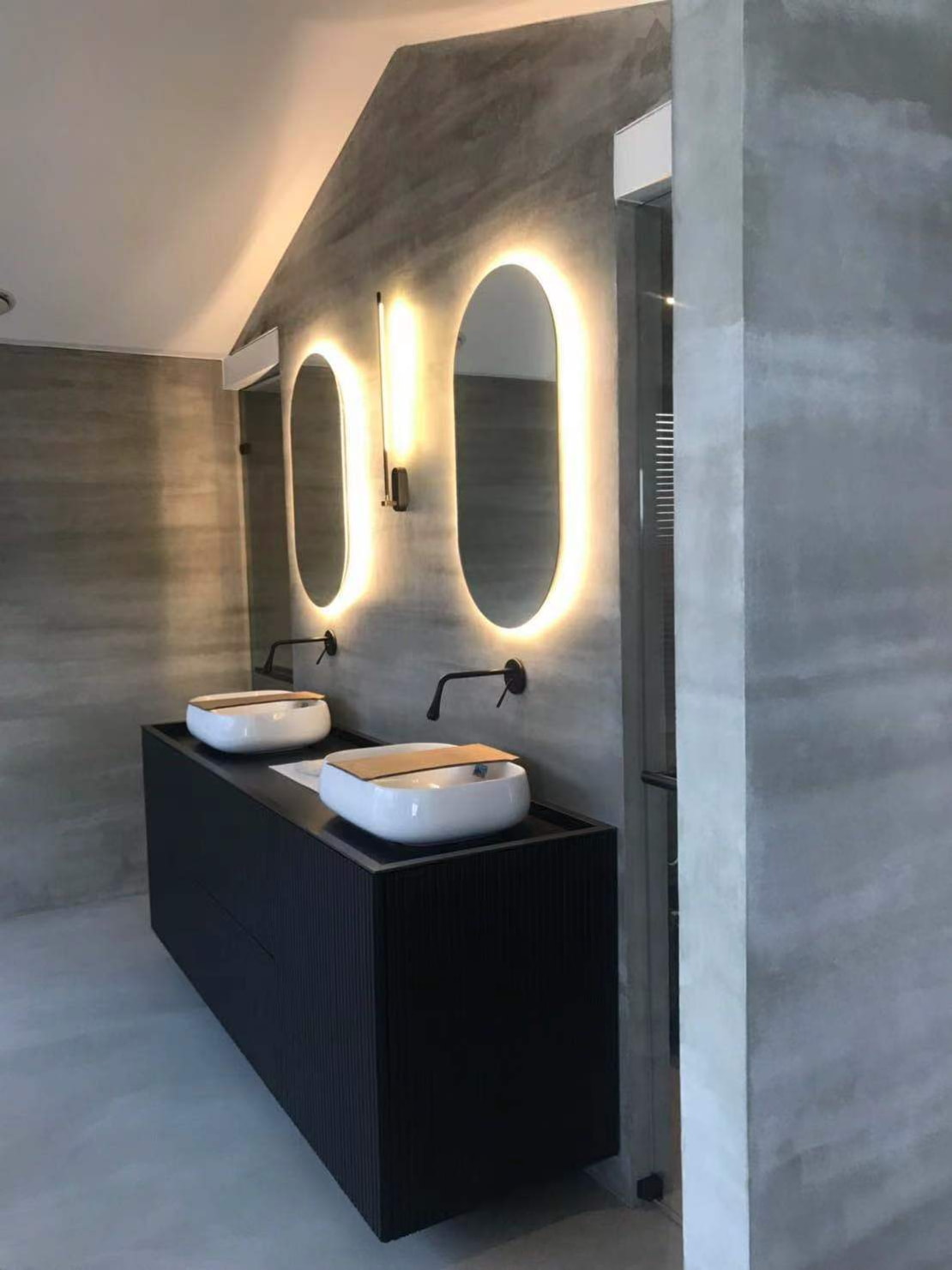 Microcement on the floor and walls of a miminalist bathroom decorated with black taps
4. Bathrooms with lasting serenity
The style of the bathroom does not only depend on the materials, but also on the colors that reign in the room. What do you think of this microcement bathroom? A bright and open room, which is achieved by planning the space very well to make the most of every corner.
On this occasion, the decoration is based on a neutral color that is very versatile and perfect for creating sober and elegant atmospheres. The durability and resistance of microcement is the icing on the cake in this bathroom.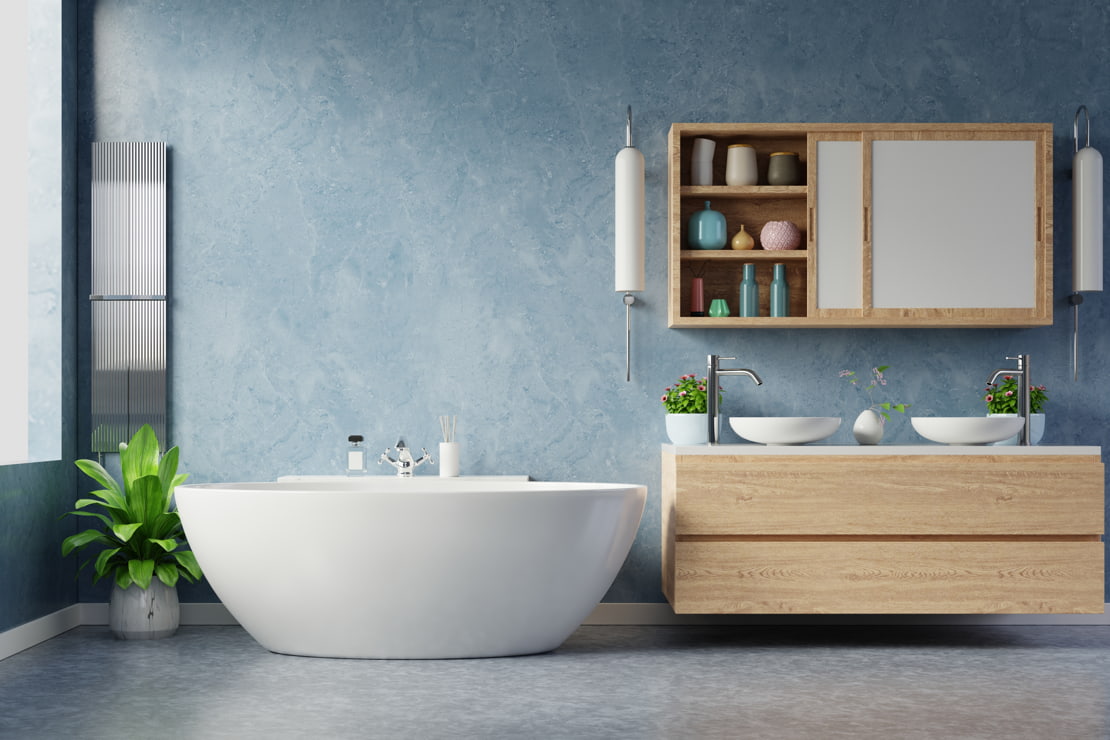 Microcement bathroom with light and Mediterranean tones to enhance the spaciousness of the space
5. Bathrooms full of minimalist relaxation
Design the bathroom you need, give shape to your ideas and enjoy the space. The blue color on the microcement wall highlights the light and the minimalist style. It is a soft tone perfect for the bathroom to transmit calm and a climate of total relaxation. The microcement bathroom in this color is an invitation to relaxation.
If you are thinking of covering your bathroom with microcement, you should also know that the inspiration of this decorative covering knows no limits. It offers great adhesion on all types of substrates and combines perfectly with materials such as marble, glass and tiles.
Microcement and wood bathrooms: perfect marriage
Like any other part of the house, the bathroom has become another room in which to express the desired style and which, by no means, has to move away from comfort.
In this way, a new formula that will please those who are looking for an option for their bathrooms that we are not used to, but which represents a break with the established and a union of elements that combine perfectly, is running through the hearts of those with a taste for decoration.
We are talking about a trend which unites in the same room two materials which, at first sight, may seem to be opposites but which together make the bathroom one of the most pleasant parts of the house.
Aesthetically, the warm tones of wood form the perfect tandem with the greyish tones of microcement, while the relaxing properties of the noble material merge with the resistance, the high degree of impermeability and the anti-slip properties of microcement.
To increase the decorative and technical possibilities that these two materials can offer, it is worth mentioning that there are also woods that are resistant to water, such as tropical woods, teak or ipé.
The price of microcement for bathrooms: infinite value
It is a pleasure to have a material such as microcement for bathrooms. It will allow us to turn these rooms into one of the most luxurious in the house, in areas with an incalculable technical and decorative value.
On the other hand, there is its price, which is not easy to determine because to know for sure, it is necessary to study a series of variables such as whether it is applied on floors or walls or whether it is going to be the chosen covering for shower trays or bathtubs, whether the surface is in good condition or needs to be repaired or the number of applicators needed to carry out the work without renovations.
Don't worry about the quality of the professional applicators because at Luxury Concrete we have an exceptional team, with extensive experience and continuous training.